In a stunning display of car control under great pressure, Omar Gazzaz led both races from start to finish to take two large trophies back to the Kingdom of Saudi Arabia.
Polish driver Alex Karkosik, who perviously competed in French F4 dominated all three practise sessions and set pole position but was unable to carry his speed forward to the races with two second place finishes.
With all drivers in identical 186bhp 'slicks and wings' single seater formula cars, trained all season by the same coach, the only variable is the driver. Their goal is always to be the driver who makes the least mistakes.
Although Karkosik was understandably frustrated by Gazzaz's faultless drive and ability to make his car as wide as possible, he did enough to win the Formula Gulf Academy title now in its sixth season and so wins GulfSport Scholarship funding as moves up to F3, competing this summer in EuroFormula Open where he is expected to win the Rookie Class.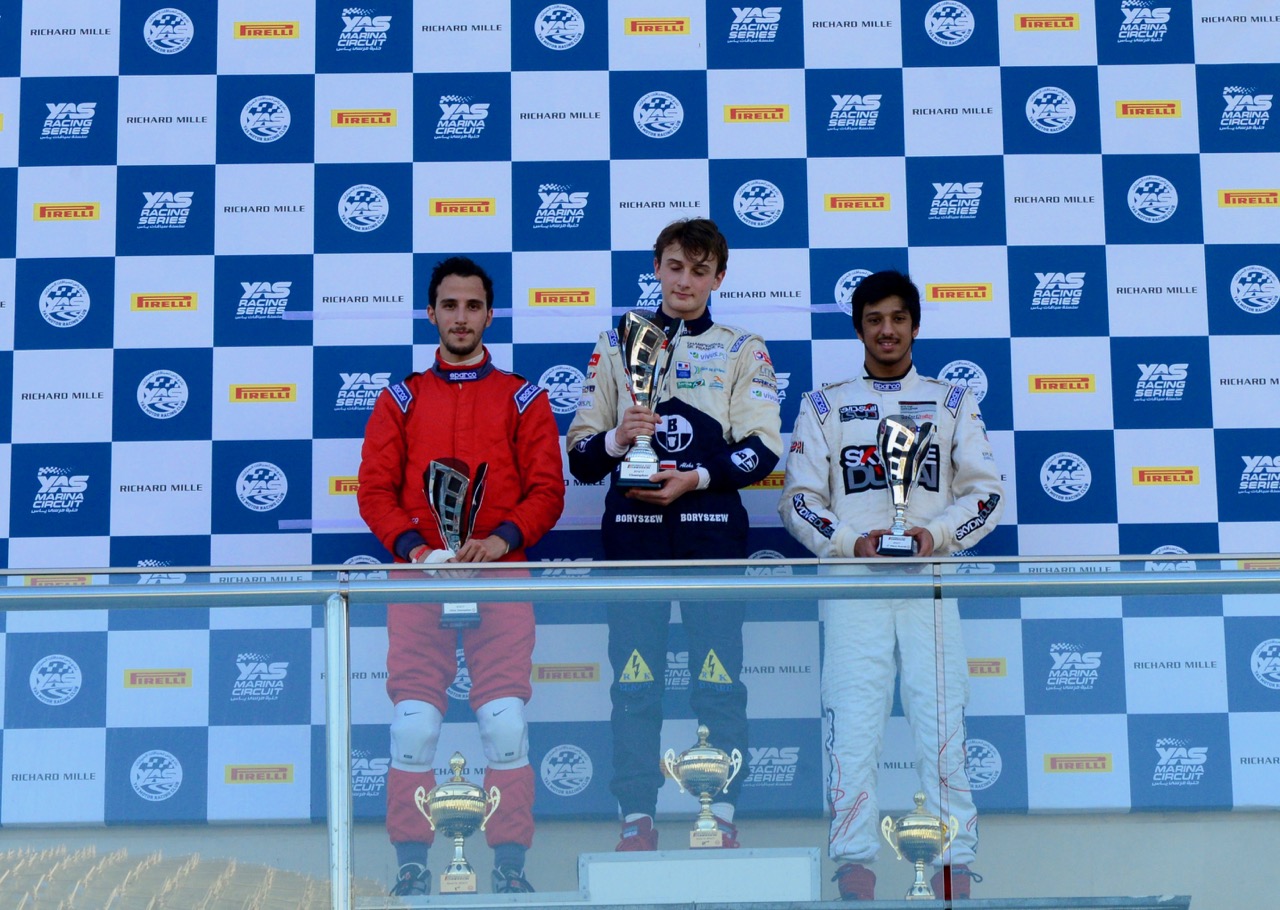 Now Vice Champion two years running, Gazzaz wins a fully funded F3 test in Valencia with courtesy of series partner Campos Racing, current EuroFormula Open Team Champions.
However the performance of 17 year old Emirati, Saeed Al Ali did not go unnoticed in his first season of car racing as he was within a second of the pace of the two far more experienced competitors, gaining two more podiums and finishing 3rd overall in the series. It is clear that Al Ali is now the UAE's most promising young national racing driver and with support could be representing his country with pride in international competition.
Indian student Nabil Zakhir Hussein demonstrated his newly acquired skills under the bright F1 lights at Yas Marina Circuit and showed immense pace and a very promising future. There were also notable performances also throughout the season by Jordan Oon (Australia), Jason and Jeremy Timms (UK) who did not score points as 'guest drivers'.
Said Martin Hope, "Our job is to transfer the skills that are required to succeed at the highest level to these young drivers. The job of a professional racing driver is terribly difficult, much more than most people realise, but with this level of intense coaching, learning to properly race on great circuits, they will have gained the habits, skills and attributes required of them. Of course they need to bring boundless passion, enthusiasm and supportive parents for this package to work. We get a real kick out of seeing their parents witness the extraordinary change that takes place over our six month academy season." A Formula Gulf Academy six event season is typically just 25% of the cost of a season in F4.
GulfSport now take the Academy to the UK where drivers can experience the thrill of racing on the UK's best circuits in either the Monoposto single seater championship or for the experienced, the F3 Cup.